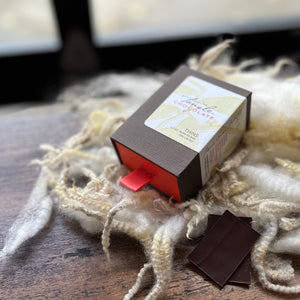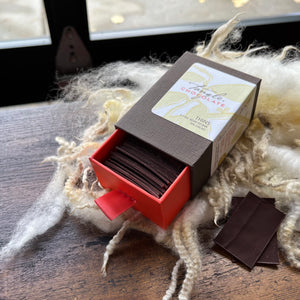 The box that folks most often buy for themselves, the elegant Celebration of Goodness contains a full 2.7 ounces of our delectable handmade chocolate slivers. Customers tell us that this is the box they keep next to their coffee maker or on their desk to make it easy to slip out a sliver when they need a little something special. This box is the same size as our Language of Love, but without the concealed note that slides out when the Language of Love box opens. 
For gifts, consider nestling the chocolate in a box with several handmade cream-colored sola wood flowers and a locally-made heart-shaped beeswax candle, tied up with a red and cream raffia bow. This $12 option (and a photo) will appear if you tick the box asking, "Is this a gift?" 
DARK AND MILK FLAVORS: 
DARK
Original 72% Dark Organic Single Origin Guatemalan, our original and still best-selling flavor, rich and fruity.
NEW! 85% DARK! Still Organic Single Origin Guatemalan, but darker than ever for all of you who have been asking, "Do you have anything darker than 72%?" And our 85% reads as even darker since there is no extra cocoa butter added to our dark chocolates. (When cocoa butter is added to a brand of chocolate, it decreases the amount of chocolate mass in the finished chocolate, but it is included as an increased percentage of cocoa in the chocolate.)
Aji Charapita Hot Pepper, a Peruvian pepper with a tiny size that belies its heat. First you taste the chocolate and the touch of added cinnamon, then the pepper comes in and lingers. The charapitas are grown right here by our farmer friend Dave.
Coffee-Infused Guatemalan, perfectly balanced and complex with notes of honey and citrus.
Cape Cod Sea Salt

Hey, it's local salt! Straight from our Massachusetts coastal waters and handmade by a commercial fisherman, oceanographer, and wild food maker, this salt contains naturally-occurring trace minerals and even a tiny bit ​​of dried plankton, algae, and seasonal pollens.  
Soft Chai
Warm spices of cinnamon, cardamom, ginger and cloves plus a hint of black pepper make our chai chocolate exciting without being bossy. Bonus: the cardamom is grown by the same farmers who grow our Guatemalan cacao. 
Italian Truffle Sea Salt
This salt starts with the finest Sicilian sea salt that is then seasoned with tiny pieces of Italian summer truffles. The result is a strong, earthy, intoxicating salt that makes for an unforgettable pairing with Tangle Chocolate. We are obsessed with it, and if you love truffles, you will be too. 
MILK FLAVORS
52% Milk Guatemalan. We took our time developing this milk chocolate and are proud of the results. The organic milk that we use is the best we've ever tasted, and the percentage of cacao used is almost five times higher than in big-name milk chocolates. The result is an adult version of a deep and creamy milk chocolate that is also loved by children!
Coffee-Infused Milk Chocolate, lighter and sweeter than our Dark Coffee, made with a coffee from Bali with honey and citrus notes. Insanely good paired with your morning coffee. 
Sage Brown Butter Milk starts with a 52% chocolate made with perfectly balanced, slightly floral, organic Peruvian cacao beans. The  brown butter adds the nutty creaminess you would expect, and the subtle sage with the tiniest bit of black pepper slides in just where you want it, fresh and herbal.
Surprise!
Tangle's dark chocolate thins made the perfect surprise in my honey's mailbox! He reports that they kept him motivated through a long day of work. Thank you Suzanne xo
Flavor sensation!
These little flakes of chocolate are so thin they can't really be chewed. You can only let them melt in your mouth. Boom!
Delicious as usual!
As a regular customer I've come to expect the best from this small company, and I have yet to be disappointed.
Too good
So it's a good thing the size of the slivers slow me down. Tastes like real hand made artisan quality. Can't recommend more highly.